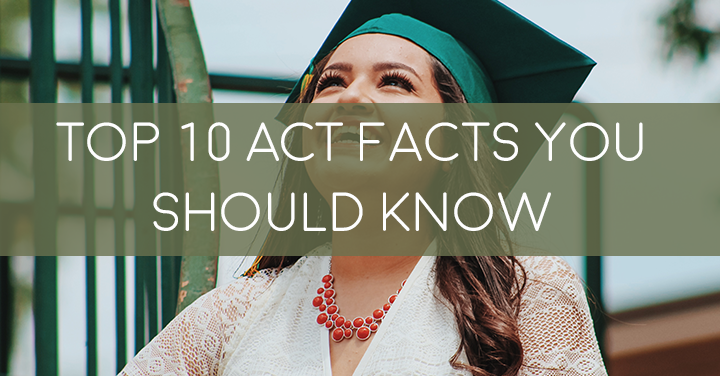 23 Jul

Top 10 ACT Facts You Should Know

1. There are four required sections on the ACT: English, math, reading, and science. The essay is an optional fifth section (and we recommend doing it!).

2. The ACT score range is 1–36. The optional essay is scored separately on a 2–12 scale and does not count toward the composite score.

3. The total score (i.e., composite score) is the average of the four section scores, which means each section is weighted equally.

4. Calculators are permitted on the entire math section of the ACT.

5. Math formulas are not provided on the ACT, so test takers must memorize all potential formulas in advance.

6. The ACT has very tight time constraints. Here is the breakdown by section:
English: 36 seconds per question
Math: 60 seconds per question
Reading: 53 seconds per question
Science: 53 seconds per question

7. The ACT math section has a heavy focus on geometry, which makes up 35-45 percent of the math questions.

8. The questions on the reading section are not always in chronological order based on the passage. In other words, the reading questions are in a random order, not based on the order of the passage.

9. The ACT is multiple choice and does not include write-in or grid-in questions.

10. On the ACT's optional essay, test takers will read a passage, analyze the different perspectives on the issue, and share your personal opinion.