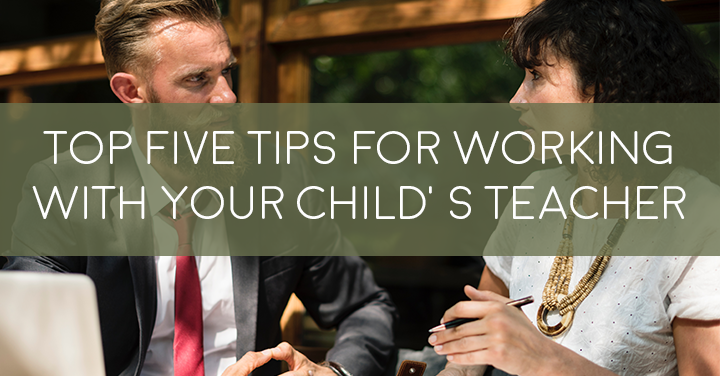 23 Jul

Top Five Tips to Working with your Child's Teacher

Teachers can be amazing advocates and mentors for your child—having teachers in your child's corner is only a good thing! While it can be difficult to carve out time to connect with teachers or spend time at school, your time spent in this way will pay off tenfold. Here are a few tips for productively working with your child's teachers:

Get to know them.

Particularly at the beginning of the year, do everything possible to meet teachers in person at a regularly scheduled back-to-school event, or if you cannot attend an event, reach out to teachers via email to schedule a different day and time to meet. More often than not, teachers will be happy to accommodate your schedule, even if that means coming into work extra early or meeting you over the weekend.

Be present as much as possible.

Make it a point to attend parent-teacher conferences if your work schedule will allow, but also try to meet with your child's teachers organically. For example, you could attend a school event, serve as a chaperone for a field trip, volunteer in your child's classroom, or occasionally go into the school/classroom to pick up your child rather than having them ride the bus. If your work schedule limits your ability to be involved during the school day, send your child's teacher an email or give them a call to figure out how you can get involved in other ways.

In-person meetings are best, and whenever possible, include your child in the meetings too.

While you can certainly email or call teachers, in-person meetings are preferred when at all possible, especially if you have questions about your child's performance or concerns about the class in general. Whenever possible/appropriate, include your child in the meeting so that the discussion with the teacher is transparent. This will also be a chance to model for your child how to have productive, professional conversations about important, and sometimes difficult, topics.

Assume the best intentions and ask constructive questions.

The vast majority of teachers joined this profession to make a difference in the lives of children. They are working tirelessly to help your child be successful in school and in life. Start from the assumption that the teacher cares deeply about your child. If you have a concern, schedule a meeting to discuss it. During the meeting, stay positive and ask constructive questions. For example, instead of asking "Why are you making kids learn this?" say something like "My daughter is having a difficult time with this concept. Could you explain the context to me so that I can better support her in understanding why it is important?"

Be proactive.

If you have any concerns at all, don't wait to have a difficult conversation with a teacher. It's best to have the conversation right away rather than waiting until the situation is worse. Again, in-person meetings are preferred, and if appropriate, include your child in the meeting as well. Be sure to approach the meeting from a positive place—keep in mind that teachers are (or want to be!) on your child's team too. It never hurts to hire a private tutor to support your child's academic development. Discuss this possibility with the teacher and, if you move forward with a tutor, create an open line of communication between the tutor and the teacher so that they are working toward the same goals with your child.